Drummer Blog: 2014 "Hit Like a Girl" Finalist Natalie DePergola Talks Gulf Blvd and Other Projects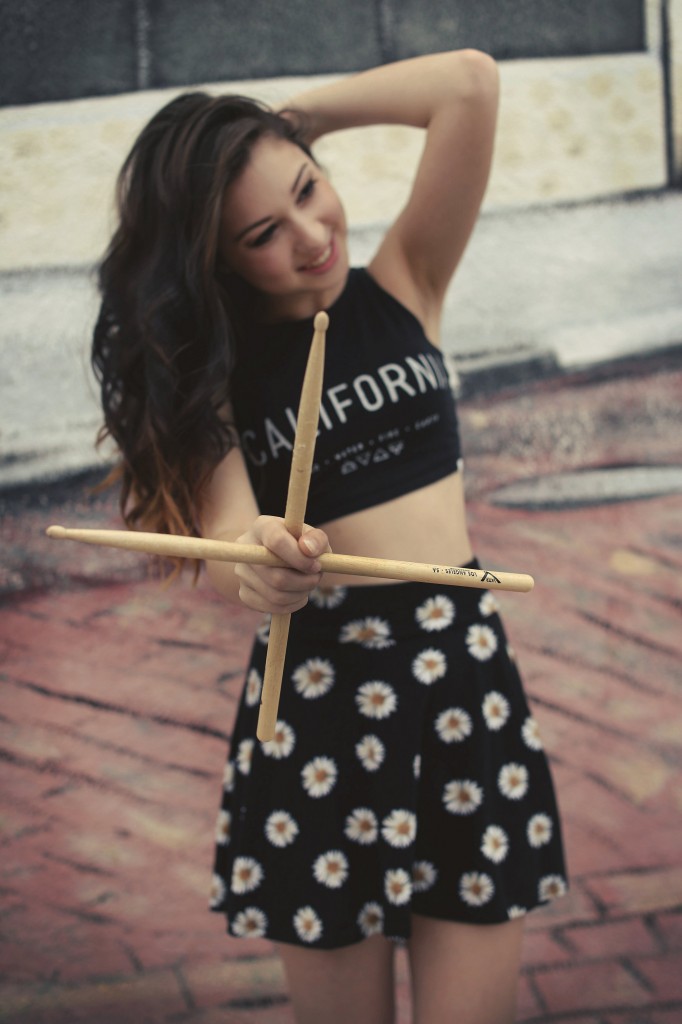 Hi MD readers. Natalie here, aka "Nat Drum-Her." I am an independent drummer dabbling in everything I can. I just finished a string of gigs with a project we call Gulf Blvd, and we had a blast performing at last year's Rib Festival in St. Pete, Florida. We are a unique group, equal in talent and age (all under seventeen years old).
I'm truly happiest when I'm playing in more than a few projects. I've been involved in jazz and swing ensembles, learning from the masters (I take lessons from John Blackwell), and I'm really starting to dig learning jazz. It's challenging, but oddly I'm addicted to it.
I was also first runner-up in the "2014 Hit Like a Girl Contest." I was second only to Japan, and first in the US in the under-eighteen age category.
When I work, I end up using a couple of different kits. When I'm playing as Gulf Blvd's drummer I use an awesome-sounding, pretty-looking, blue-sparkled Crush Sublime kit with an 18″ kick, one floor, one rack, snare, hi-hat, China, and a ride. For smaller gigs, I use a more vintage kit. A friend of mine stores it and says it used to belong to Art Blakey. I just love the way it sounds in smaller spaces. Advertisement
Currently I'm in an R&B group. I love this project the most! There are seven of us—vocals, horns, keys, upright bass, guitar, and me. I totally love it, and when playing R&B, I feel right at home.
Recently, I was in the studio at Drummer Connection laying down tracks for a music store commercial. My good friends over at Seminole Music and Sound, which is a place where I grew up, learned to play, and hung out over the summers for band camps, include me on everything! John Spinelli, in my short fifteen-year existence, has not only been a teacher, but also a friend and supporter for as long as I can remember. The store is like home for me. I also got to meet my teacher and mentor, the one and only John Blackwell, at his incredibly funky drum clinic there. John has impacted my ability to play 150-percent and keeps me wanting to learn more. He calls me his little sister, and I'm grateful to John for everything he has taught me.
Thank you for reading!
Check out a video of Natalie DePergola drumming a cover to Jay-Z's "Part 2 On the Run" below.
http://youtu.be/j4eUelmCIMQ