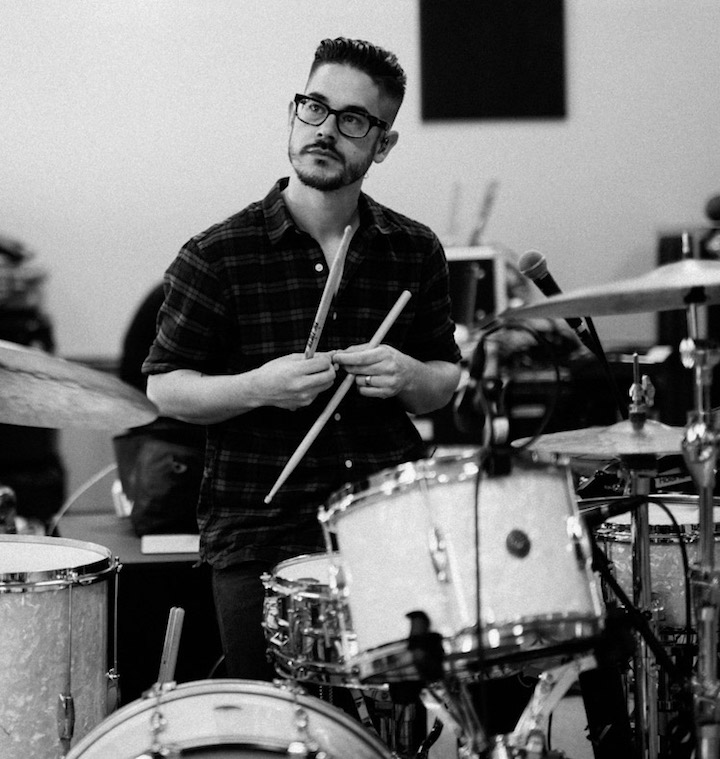 Ellie Goulding's drummer and music director has taken away our excuses for not embracing electronic-drumming technology.
For a dyed-in-the-wool acoustic drum player, it's been difficult to avoid the news that professional drumming has become hybridized. Whether the gig is with a top-of-the-charts pop artist or a small club grind, the incursion of electronics, triggers, pads, Ableton rigs, and backing tracks has not just begun; the battle is over. If you want to remain viable as a professional in the widest range of contexts, a knowledge of the technologies that fuel current trends in pop music is essential.
Enter Joe Clegg, an affable, approachable Northern England– based drummer and music director who's created a warm and home-brewed introductory video course on the creative application of Ableton, pads, MIDI, and triggers to a live performance context. You're So Hybrid: Ableton Live for Drummers is a three-and-a-half-hour, fifteen-segment course that demystifies the process one would undertake to recreate extremely complex studio recordings and render them playable live. Clegg has plenty of bona fides, but his highest-profile gig is drummer/music director for U.K. pop star Ellie Goulding. And he passed the audition by applying his creative use of Ableton to Goulding's recordings.
Clegg's method is not about pressing play on a laptop and drumming acoustically along to a click track. It's also not about programming a set of static samples and reassigning them between each song in the set. Clegg's Ableton method honors the original song and intent of the producers, while allowing the drummer to actually play.
According to Clegg, Ableton Live for Drummers was created without any sponsorship. "I invested the money myself, edited it myself, and took a massive risk doing this on my own terms," Clegg tells MD from his home in Colne, U.K. "I'm not [working for] Ableton—it's not a sales pitch for them. But in this moment it's software that defines live music making."
The series has a bit of a "rough and ready" appeal: the introduction and first few segments lean heavily on defending the author's method and approach. But Clegg is a pure drummer who can more than hold his own in any acoustic context and clearly loves sound and making music. He's leveraged technology to play the songs in his set dynamically, using Ableton to access the heart of the material while honoring his own creativity.
What is clear from the videos is that Clegg reached his current position in the industry with a painstaking attention to detail. The work that goes into reproducing the two Clegg originals featured here (the short and pithy "Pyramids" and "Arrival") can sometimes feel overwhelming, but Clegg doesn't try to pretend that what he's presenting is easy. His obvious love for process is infectious, and he's made his obsessive attentions a virtue worth cultivating.
For those of us who've written off the efforts of drummers in Clegg's position, there is no mystery anymore. This kind of work "inside the box" is not for the faint of heart. At the same time, Clegg has blazed the path through the wilderness. Watching this video introduces the technology, but also the conceptual underpinnings of this kind of work. Clegg's made the entire process approachable and digestible even for a technology-averse drummer. While there are moments that drag and sections that could have been trimmed, these flaws are far outweighed by the series' success in providing a clear introduction to this technology.
"I'm super passionate about recreating these wonderful drum tracks that have been made in the studios," says Clegg. "There's an art to it. I think we should put the same amount of care and craft into it because you can now. It's not a quick solution, but if you want to get into it, it's possible."
To learn more about You're So Hybrid, or to purchase the series, go to gumroad.com/l/joeclegg.
---
Study Suggestions
"How can we encourage a generation of musicians and drummers with Ableton to become artists?" asks Joe Clegg rhetorically. "How do we make something new? Start with an inquisitive nature with the sounds that you hear on recordings, on videos, and on the radio. What are those sounds, how are they created, and how can I create them and play them myself?
"If you've got Ableton already or Ableton Lite, it comes with a bunch of drum sample packs—you can get a classic Roland 808 or 909 sample pack from the Ableton website. Load them in, cycle through them, and familiarize yourself with these sounds. For instance, the 808 kick drum is prevalent on the radio; an 808 hi-hat sound slightly manipulated starts to sound a lot like a trap hi-hat. Do your research about songs and what kinds of sounds go into them.
"There's a good community of Ableton users on YouTube. From there you can see how to program these standard drum sounds, draw MIDI beats, and understand the process of how to create your own beats within the program. These sounds that you are taking for granted on popular songs actually have a source, and often these sources are easily accessible.

---
ADVERTISEMENT