The Modern Drummer Podcast Episode 18: David Frangioni & Billy Amendola with Simon Kirke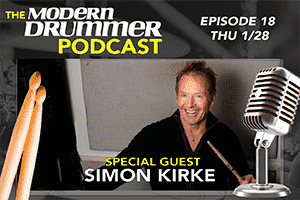 + Shop Talk featuring the Doc Sweeney Pure Series Ash Snare.
Join us this week on the Modern Drummer Podcast as David Frangioni and Billy Amendola chat with Free/Bad Company's Simon Kirke. Simon reflects on his sixty years of being in the business and being signed to Led Zeppelin's label Swan Song. Simon also talks about the R&R Fantasy Camp and how that led to four tours as an All-Starr on the Ringo tour. In the Shop Talk segment, Managing Editor Mike Dawson reviews and plays the Doc Sweeney Pure Series 5.5×14 Ash Snare.
Audio
Video