The Modern Drummer Podcast Episode 1: Mike Dawson & Thomas Lang.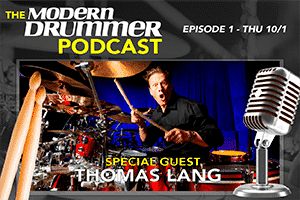 Episode 1: Thomas Lang, Koide Cymbals, and More
In this episode, managing editor Mike Dawson sits down with August 2020 Modern Drummer cover artist Thomas Lang to dig deeper into the various topics that were discussed in his recent feature story in the magazine. Everything from the necessity of having a home studio to effective and efficient practice methods are covered. Thomas also shares what's in store for his latest business venture, 9 Beats USA, which is a vast online and in-person drum education program designed to develop exciting and innovative new approaches to teaching modern music to children. In the Shop Talk section of the show, Dawson interviews Burke Daugherty, the official US distributor of Japanese boutique cymbal company Koide to get some insight into what makes the company's offerings special and unique. The episode concludes with a few audio samples of Koide's 10J and 703 series B20 bronze cymbals.