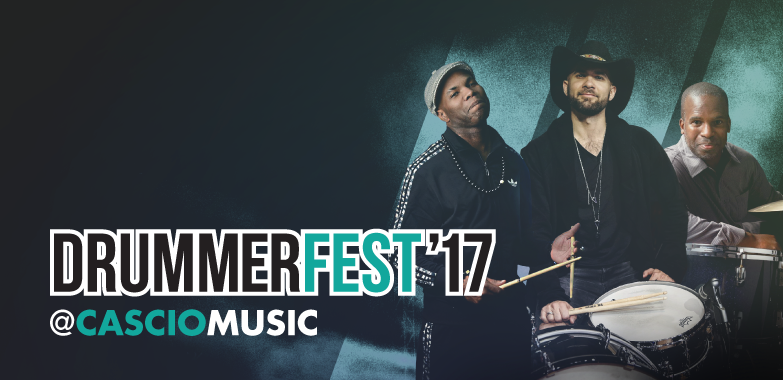 Cascio Music is hosting the seventeenth annual DrummerFest on Saturday, October 14, 2017. Doors open to the public at 10 am with the festivities running until 5 pm.
DrummerFest brings together drummers from around the world for free performances, clinical instructions, and exclusive access for fans and regional drummers. The 2017 DrummerFest lineup includes Daru Jones (Jack White, Slum Village, Taleb Kweli, Black Mild), Joe Saylor (The Late Show with Steven Colbert, John Batiste), and Will Kennedy (Yellowjackets, Russell Ferrante).
In addition to high-caliber performances and drum clinics, DrummerFest includes free prizes for the first fifty people through the door, photo and autograph opportunities with the headliners, and special drum gear sales. Leading drum brands including Drum Workshop, Tama, Pearl, Zildjian, Paiste, and other drum factory reps will be at Cascio Music showcasing their latest drum gear. Guests can demo new products and get first hand experience with their favorite drum brands.
"DrummerFest is something drummers from around the Milwaukee area and the entire Midwest look forward to ever year. We're excited to continue the tradition," said Matthew Freter, Cascio Music's marketing manager. "It's an entire day devoted to drummers, plus it's totally free and open to the public—you simply don't see world class drum events like this anywhere in the country, right here in our home town" said Michael Houser, Cascio Music's CEO.
For more information, visit interstatemusic.com/drummerfest.