Drummers Kenny Aronoff and Rock and Roll Hall of Fame inductee/Grammy-Award winner Marky Ramone have donated special personal packages to raise money and awareness for the Rock Against MS Foundation.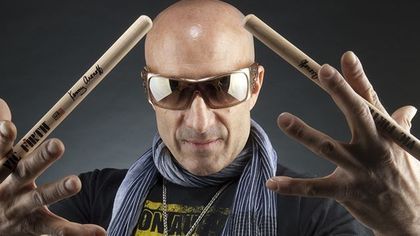 Kenny Aronoff has donated personal time at his private studio in Los Angeles. The winner of this package will receive a fully loaded DW drumkit with all the hardware, throne, stands, and cymbals from Sabian. You will choose how you want to spend your time, whether it's a drum lesson with Kenny Aronoff or just some hang time.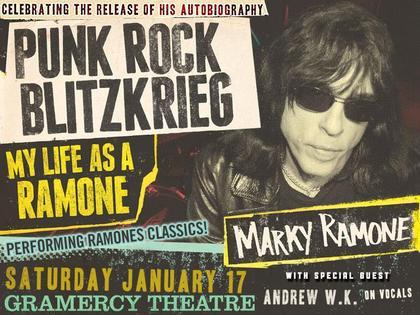 Marky Ramone has donated a night in NYC. The winner will attend his private book signing, where he will sign books for you and your guest as a gift, and then the winner will be taken backstage for that night's concert, featuring Andrew W.K., at the Gramercy Theater. Hotel is included.
Check out the Kenny Aronoff package at www.charitybuzz.com/catalog_items/707300?preview=1.
For more information on the Marky Ramone package visit www.charitybuzz.com/catalog_items/707301?preview=1.
About Multiple Sclerosis
: Every hour in the United States, someone is newly diagnosed with MS, an unpredictable, often disabling disease of the central nervous system. MS interrupts the flow of information from the brain to the body and stops people from moving. Symptoms range from numbness and tingling to blindness and paralysis. The advancement, severity, and specific symptoms of MS in any one person cannot yet be predicted, but advances in research and treatment are moving us closer to a world free of MS. Most people with MS are diagnosed between the ages of twenty and fifty, with more than twice as many women as men being diagnosed with the disease. MS affects more than 400,000 people in the US and 2.1 million worldwide.
Thank you to Fur & Feather Animal Sanctuary for gathering these amazing experiences for RAMS. Fur & Feather Animal Sanctuary is the fiscal partner to Rock Against MS Foundation.
For more information about RAMS, go to www.facebook.com/rockagainstMSfoundation.