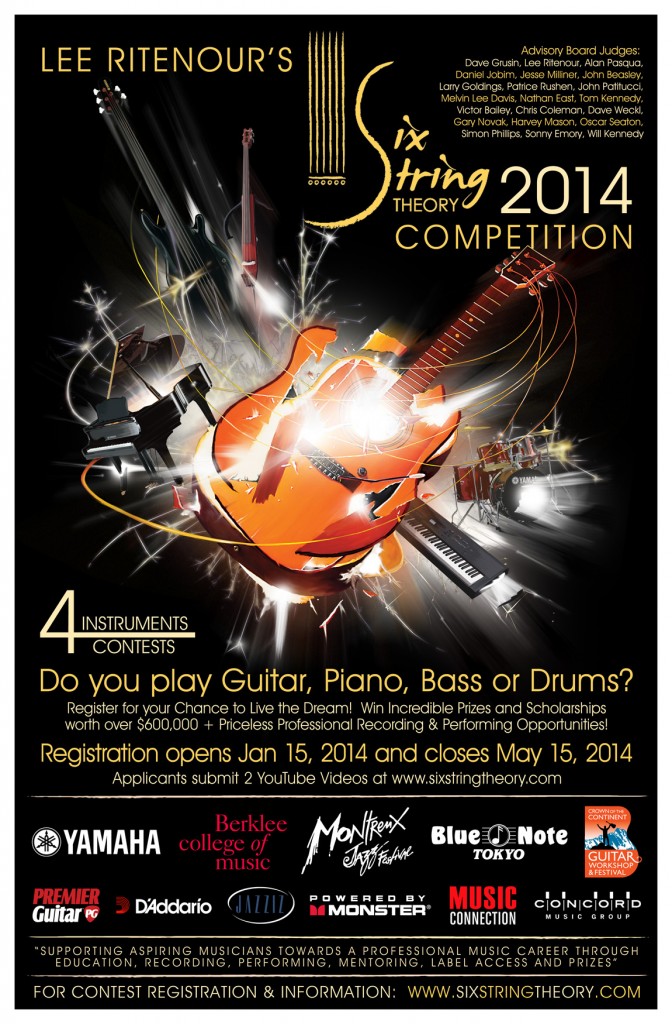 Yamaha has announced that a number of the world's top musicians will serve as judges for legendary Grammy-winning guitarist and producer Lee Ritenour's fourth Six String Theory Competition. The competition is open to guitarists, bass players, keyboard players, and drummers.
"We have assembled an incredible array of judges who are some of the best musicians on the planet," said Ritenour. "When busy people with this level of talent devote their time to this endeavor, the musician community affirms its commitment to cultivating the next generation of great players."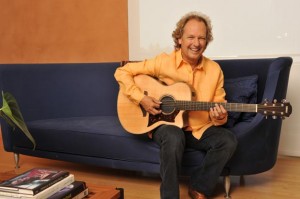 Guitar judges include Don Alder, Joe Bonamassa, Vince Gill, Guthrie Govan, Sonny Landreth, Steve Lukather, Pat Martino, Brent Mason, Andy McKee, Keb' Mo', Lee Ritenour, John Scofield, and Joe Satriani.
Rhythm judges, including keyboards, include Victor Bailey, Ndugu Chancler, Nathan East, Sonny Emory, Dave Grusin, Daniel Jobim, Tom Kennedy, Abraham Laboriel, Harvey Mason, Patrice Rushen, John Patitucci, Simon Phillips, Oscar Seaton, and Dave Weckl.
In addition to Yamaha, sponsors include Berklee College of Music, Montreux Jazz Festival, Blue Note Tokyo, Crown of the Continent Guitar Workshop and Festival, Monster, Premier Guitar, JAZZIZ magazine, Music Connection magazine, Concord Records, and D'Addario. The competition offers a total prize package value of more than $600,000 this year.
Four grand-prize winners (one in each instrument category) will win an opportunity to perform at the 2014 Montreux Jazz Festival. In addition to being invited to record on Ritenour's forthcoming 2014 Concord album, the Six String Theory guitar grand-prize winner will appear with Ritenour and other guitar legends at the "Legends of Guitar" concert at Montreux, to be filmed in HD. Additional prizes include four full scholarships to the Berklee College of Music, Yamaha instruments and endorsements, Crown of the Continent Guitar Workshop scholarships, and more.
Registration is open through May 15, 2014. All applicants must submit two YouTube videos via www.sixstringtheory.com. Guitar applicants may register in the genres of rock, blues, jazz/fusion, acoustic, classical/flamenco, and country. For rhythm players, any contemporary music style will be accepted, including jazz, fusion, R&B, rock, blues, and others.
To access video of contest guidelines narrated by Lee Ritenour and filmed by Yamaha, see the links below.
The competition debuted in 2010 with the release of Ritenour's all-star guitar recording, 6 String Theory, and by popular demand, expanded to include bass, piano/keyboard, and drums with the release of Rhythm Sessions in 2012.
Lee Ritenour playing "Morning Glory" on the new Yamaha L Series guitar: http://4wrd.it/leeritlseries.
Lee Ritenour discusses 2014 competition, new Yamaha L Series guitar and plays: http://4wrd.it/sixstringlseries.
Lee Ritenour discusses 2014 competition, sponsors, and advisory board judges: http://4wrd.it/sixstringoverview2.