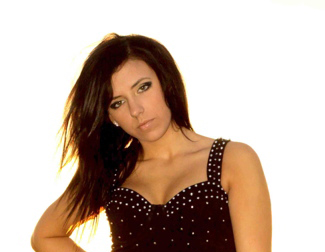 Hi, I'm Mindy, nineteen-year-old drummer and lead vocalist for the Arizona metal/rock trio Hellen. My sister, Desiree, and I started Hellen as a duo in 2005. Sadly, Desiree passed away in 2007, but I continued on in the duo format with another guitarist and not only kept Hellen alive, but released an EP in 2009.
Being part of a duo for so long shaped much of what I am. I was forced to manage multiple priorities. As a drummer, I had to provide a solid foundation, while as a lead singer, I had to find ways to play and sing lead simultaneously. I needed to provide the animation and visual dynamics in order to compensate for having just a drummer and guitarist on the stage.
In 2010 Hellen evolved into a trio. The band now consists of Ryan Abel on guitar, Andrew Heath on bass, and me on drums and lead vocals. We have opened for international acts such as Kittie and Otep. We just finished our first full-length CD, Sorry For Screaming, which is a very unusual metal/rock hybrid. I hope you will treat yourself to a copy. We think it's awesome!
Even though I play in the metal genre, I made a conscious decision to play only a single bass drum pedal and a smaller kit. These limitations bring out something extra in me. My drumset is a three-piece Pearl Reference series, plus I use an Ian Paice Pearl Signature snare drum. I have my drumheads unusually loose, which most players would probably find unplayable. But I like a deep, heavy sound. I endorse Pearl drums, Vic Firth sticks, and Supernatural cymbals.
As a player I am unorthodox. I play hard and I often break sticks. 🙂 I deliver ATTIDUDE. I have been called "a performance polyrhythm." Venue permitting, I set my drums up in front of the stage rather than in the back. My vocal style is unique, and I am usually left breathless after each song!
I want to be a complete package, and I want to be versatile. To that end, I am currently a full-time college student in the film program at Arizona State University, and I'm privileged to work part-time as a graphic designer for ASU. Part of being a complete package also means that I have to know the industry. I do as much networking as I can and am the primary mover in promoting and booking the band.
Thank you, Modern Drummer, for this opportunity!