Pat Gesualdo: Drum Therapy Zone: Warped Tour Review
This year I decided to promote the DAD Program and my Modern Drummer Drum Therapy Column on the 2010 Warped Tour. We couldn't have done it without the help from Modern Drummer, Pro-Mark, Paiste, and Sony Music/Mustache Mania. All of them went above and beyond to help bring the DAD Program and Drum Therapy to special needs children in the towns and states along the tour. Much thanks also to my drum tech, Andrew Bosonac, and my tour manager, Owen, who were a huge help out on the road. They really kept everything running. Chris from the Warped Tour always went out of his way to make sure everything ran smoothly, and that the setup for the DAD/Modern Drummer/Sony tent was as easy as possible.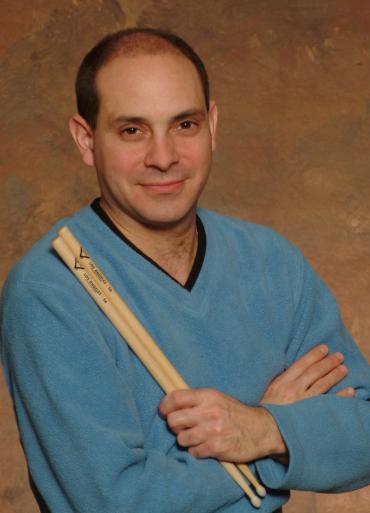 Many of our brothers in drumming and their bands joined the effort too, and worked extremely hard to help put the entire project over the top. Bullet For My Valentine, Dillinger Escape Plan, Automatic Loveletter, and Eyes Set To Kill were also a huge help, and made sure our tour was as successful as possible.
We had a Modern Drummer, Pro-Mark, and Paiste giveaway of the day, which took place at each venue. Paiste made us custom DAD Posters that featured Paiste drummers Mike Ambrose from Set Your Goals, Sam Keir from the Riverboat Gamblers, Ryan Folden from After Midnight Project, Emmett Menke from Polar Bear Club, Brett Hartwell from the Frantic, and Justin Bawinkel from Flatfoot 56. They all came in to the DAD/Modern Drummer/Sony tent every day to sign with posters and help promote raffles of a Paiste 18″ Alpha Rock crash, which was given away to a random winner at the end of the tour. The fans went wild over the Modern Drummer giveaway of the day too, which included the phenomenal giveaways from the 2010 Modern Drummer Festival. The fans loved the Pro-Mark giveaway of the day, which was a Pro-Mark hat, a pair of 5B nylon sticks, and the awesome Pro-Mark drum keys. Sony gave me free download cards, which featured twenty-six major bands and two songs from my new instrumental metal band Iceland. (You can go to myspace.com/patgesualdo to hear some of the new material.)
The weather was brutal for some of the dates. Phoenix was 117 degrees. How can you explain that? There's no possible way, except to say that I stayed outside for literally three minutes and had a complete sunburn, as if I was out on the beach all day!
We got hit with the hurricane for the San Antonio, Houston, and Dallas shows. In Houston we were up to our ankles in mud, especially since the venue grounds there were made of dirt and sand. Our tent really got hammered at one of the other Texas shows, and the tent next to us actually blew right over out into the crowd.
This year's Warped Tour featured many hardcore screamo bands. There's nothing like being in between those three stages—and at full volume all the time.
All of the bands worked extremely hard. It was easy for them to get around since they rented tour buses from the Warped Tour. Two or three bands traveled together per bus. I have my own bus that I bring to many events. It has the DAD and Modern Drummer logos on it, plus a picture of my drumset with the lighting bolts around it.
Since I brought my own crew and was independent of the tour, we had the opportunity to go anywhere we wanted, whereas all the other bands renting the buses had to adhere to strict schedules, and could not venture anywhere or leave the venues until they were told they could.
The way the tour scheduled the shows made for some long hauls. Sometimes it was a ten-hour drive to get to the next show for the next day. That's rough, even if you have a driver.
We saw some pretty cool things, like small sand tornadoes in the desert. Of course driving through the desert and looking at the beautiful mountains with the snow on top is always wonderful to see.
All in all, things were pretty good, and we brought the DAD program and Drum Therapy to even more special-needs children. That was the purpose of the tour, and thanks to Modern Drummer, Pro-Mark, Paiste, and Sony Music, we were able to accomplish a great goal that we set!
As always, please feel free to contact me at info@dadprogram.org with questions or for further information on becoming a certified Drum Therapist.

Pat Gesualdo is an award-winning drummer, author, and clinician who has performed and recorded for various Columbia, Warner Brothers, Atlantic, RCA, and Paramount Pictures artists and special projects. He was nominated to Who's Who In America and was an associate voting member for the Grammy Awards. He is the author of The Art Of Drum Therapy. For more on Gesualdo and the D.A.D. program, go to www.dadprogram.org, www.myspace.com/dadprogram, www.zildjian.com, or www.myspace.com/patgesualdo.