Street Drum Corps' Frank Zummo
As I blog, I'm sitting at Tommy Lee's Atrium Studio in Calabasas, CA, where Street Drum Corps is doing preproduction for our Interscope Records debut double album, due out in early 2010. One disc is an all-percussion concept album called Street Drum Corps Presents BANG's Big Noise, and the second disc, title as of now TBD, is with a full band.
At the core, the band is a three piece: Bobby Alt on vocals with toms and percussion up front; Adam Alt on all the trash, marching and custom drums, electric grinders and sanders, and keyboards; and me on a full drumset with trash gear mixed in. Now I'll take you on a journey into our studio madness!
It all started in May 2008, when Street Drum Corps was signed to DGC/Interscope Records and moved into drummer Jeff Porcaro's old house and studio in Los Angeles to start writing. We took a break that summer to hit the road with Linkin Park, and we got the chance to play some new songs for the crowds before returning to L.A. to continue writing. When it came time to pick a producer, we chose Howard Benson to produce the band record and Jamie Rise–who had produced Street Drum Corps' last record, We Are Machines–to coproduce the all-drumming record with us.
We recorded much of the all-drumming record at Dave Grohl's L.A. studio, which was an amazing experience. We had a seventeen-foot truck filled with everything from traditional drums to found percussive objects. It was cool writing songs on the same piano that Dave had used to write many a Foo Fighters hit. After a week at Grohl's studio, we moved to the legendary EastWest Studios in Hollywood, where the Beach Boys recorded Pet Sounds, Elvis Presley did his comeback special, and my personal favorite, Frank Sinatra, recorded "My Way."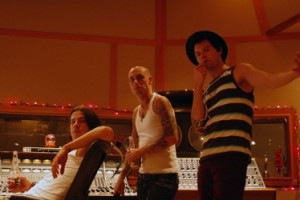 While mixing the album, we realized that the music sounded like a movie soundtrack, which inspired us to mix in 5.1 surround sound and to craft the music into a concept record and have interludes tell a story through percussive passages. The record is split into two chapters. Chapter one, "The Odyssey," tells a full epic cinematic story, and chapter two, "Street Demonstrations," features street drumming. We're thrilled that drumming greats such as Tommy Lee, Matt Sorum, Brooks Wackerman (Bad Religion), Brandon Saller (Atreyu), Shannon Leto (30 Seconds To Mars), and our side street-drumming group BANG! all guest on the album–along with Adrian Young recording beats for it.
The full-band record is the first in our career where we have fully realized songs with lead vocals, lyrics, guitars, horns, strings, and instruments other than drums. We'll also be incorporating marching and orchestral drums into the tracks. The album is heavily influenced by artists such as Adam & The Ants, Oingo Boingo, Siouxsie & The Banshees, the Creatures, Jane's Addiction, and Mötley Crüe.
It is truly a dream come true that as a drum-based band we got signed to a major label, got to record in amazing studios, and got to work alongside so many of the drummers who have inspired us.  And it's an honor to be writing this blog for Modern Drummer–I've been a faithful subscriber to this magazine since I was seven years old!
For more on Frank and the band, visit www.myspace.com/streetdrumcorps. Photos by Tim O'Kain.