Elmwood's Donnie Marple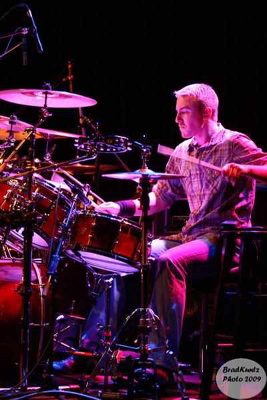 What is up, Modern Drummer! My name is Donnie Marple. I am the 2007 Guitar Center Drum-Off winner. Let me tell you a little about my past and then tell you what's going on now.
Winning the Drum-Off really sparked a fire in my career. Coming from a small town in West Virginia, I never thought my dreams would actually come true, but with a lot of faith and practice they did. When I heard about the Drum-Off I was very interested and excited about entering my first national competition. When I ended up winning, I knew it would change my life. Winning gave me the courage to get out of Keyser, WV (my hometown), and move to Nashville to pursue my dream of becoming a professional drummer.
When I moved to Nashville I was looking everywhere for a good gig. I would go downtown and hand out my card to person after person, and I never got calls. I didn't know what was going on. Well, I got desperate and went searching on the Internet. There's a very well-known ad-based Web site called Craigslist. On this site you can find anything from jobs to used golf clubs. This is where I found a band called Elmwood. I really didn't know what to expect because the band was just an acoustic guitar and a bass guitar, Rusty Kelly and Nash Johnson, and the music was like nothing I had heard before.
I liked the music on their MySpace page and could hear what I would add to the band. I responded to their ad, and we eventually got together to jam. Well, I was pleasantly surprised. We clicked so well together. It was amazing. From the moment I played my first downbeat with them I knew I'd found something special.
About a month later, our three pieces added a saxophonist, Derek Haight, to the crew. He added so much. After just three months of practicing eight hours a day and playing small gigs here and there, we got signed to a major booking agency called Paradigm. I could see my dreams coming true before my eyes. I know now that Elmwood is the reason I won the Guitar Center Drum-Off. This music, a mixture of rock, fusion, and jazz, is exactly what I have always dreamed of playing. It fits me perfectly. It gives me the chance to spread my wings as a drummer and to express myself to the fullest.
We have been on tour with bands such as Tea Leaf Green and G. Love And Special Sauce, and we even got to play the side stage for Dave Matthews Band, at Verizon Wireless Center in Birmingham, AL. We're planning on going on our first headlining tour starting in August 2009. You can check out tour dates and more at our MySpace page below, and you can buy our new CD, Dreaming Little Things, on iTunes as well.
For all you drummers looking to pursue a career, NEVER give up on your dreams, and, like my mother always told me, "If you're gonna dream, dream BIG!" God bless to all, and thanks for reading.
For more, visit www.myspace.com/elmwoodband, and check out this video: www.youtube.com.
Photo's by Brad Kuntz.