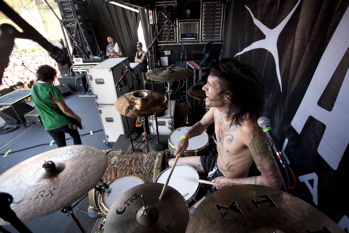 I literally just walked off stage ten minutes ago at The House Of Blues in Orlando, on the Bone Palace Ballet tour. The crowd was a lot of fun, which always makes for a better show!
We've been on tour for about six months now, working hard and having a blast, with no plans to go home any time soon. For me, the best part about touring is meeting new people. Every day you meet someone new, whether it's a musician in one of the other bands, someone at a truck stop, or a fan. Fans of PTV are the best. And I'm not just saying that to be nice–they really are. I've met some of the most loyal, respectable kids at our shows, and they sing their hearts out. That is by far the best part for me. See, I like to feed off the crowd's energy, so whenever they're into it, I'm into it.
I'm a self-taught drummer, and I've been playing for eight years. We just released our debut album, A Flair For The Dramatic, on Equal Vision Records, and we've been touring nonstop nationally and internationally since the release. We just recently returned home from a two-week run in the UK with a band from Whales called The Blackout, and what an experience that was. The shows were amazing, the kids were very supportive and happy to have us–just an all-around good trip. Playing overseas can be frustrating. Not being able to use your own kit, which you have dialed in your whole life, is definitely challenging, but I got used to it. After this tour we meet up with a band called From First To Last for another full US tour and much, much more after that–so look out!
Being a self-taught drummer has its ups and downs. I never could afford a lesson, so I basically just taught myself. People say my style is unique. I'm a very aggressive, hard-hitting drummer, but still people say I always look relaxed and that I play in the pocket. That might be because I play to a click track, which has saved my life. Following to a click live was a bit strange at the beginning, especially with our style of song structure. But it's tightened up our set immensely.
The comment I get every day after setting up my kit is, "Is that really how your snare is set?" It's kind of annoying to hear all the time, but I guess it is weird. I tilt my snare forward, to the point where most drummers can't even get a solid hit on it. Maybe it's because I'm 6′ 2″ and sit super-high and close. I don't know, but it helps me get perfect rimshots on every beat.
If I had to recommend something to a drummer who can't afford lessons or who is just starting out, it would be to try something that I've done a lot, especially during the Warped Tour. I would spend all day going from stage to stage, focusing on just the drummer. Even if he wasn't mind-blowing, I'd find something about his playing or his style and I'd really try to take it in. Then later I'd try to work some of those things into my own playing. I think that listening to people play and really feeling the music is what helped me create my own style of drumming.
Well, now I'm off to go watch the rest of the show!
Take care,
Mike